Don't Fall For These Five Bankruptcy Myths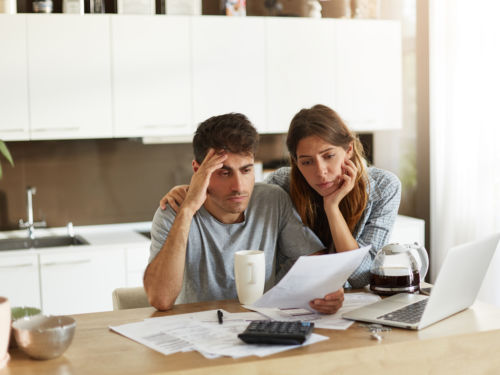 Many individuals fear the lasting repercussions of filing for bankruptcy, keeping them from restarting their financial slate. But the reality is, most of these fears are myths. Learn how the
Jones Law Firm
can help assuage your bankruptcy woes as we debunk these five bankruptcy myths.
Myth #1: Bankruptcy ruins your credit forever.
False. Whether you file for
Chapter 7
bankruptcy or
Chapter 13
bankruptcy, the filing only appears on your credit for seven to ten years. After the time period has passed, you can begin the process of rebuilding your credit. The more time that passes, the more your credit report will improve.
Once you receive your bankruptcy discharge, the negative reporting stops--meaning you are on your way to improving your credit.
Remember, as you pay your monthly bills and pay off credit cards in full, that will also positively impact your credit score. For those who file Chapter 13 bankruptcy, many creditors will look favorably on the completion of your chapter 13 payment plan.
Myth #2: You can pick which debts you include in the bankruptcy filing.
You are required to show all forms of debt you owe when filing for bankruptcy.
For Chapter 7 and Chapter 13 bankruptcy filings, you must provide:
Six months of paystubs

Car title

Proof of vehicle and homeowners insurance

Deed and mortgage documents

Bank statements

Retirement account statements

List of all your debts

List of all your assets
With Chapter 13 filings, you create a payment plan of your debts to work at managing them. So while they don't disappear, they are not as burdensome as receiving calls from creditors, banks and loan officers.
Myth #3: It's too difficult to file for bankruptcy.
When you get help from a trusted law firm, bankruptcy doesn't have to be difficult. Though it's a lot of paperwork, the process is worth it to restart your finances and rebuild your credit.
We provide a free initial consultation to evaluate your case, see which form of bankruptcy may be best for you and in the case bankruptcy isn't an option, we can go over other alternatives.
The Jones Law Firm offers very
competitive rates
to ensure you receive quality advice at an affordable rate.
Myth #4: You'll lose everything. - The Scariest of all Bankruptcy Myths
When you file a Chapter 7 bankruptcy, there are exemptions that allow you to keep most if not all of your assets after filing for bankruptcy. If there is a chance you may lose an asset, The Jones Law Firm will work with you to see what other options you may have, like filing for Chapter 13 instead. In the case of Chapter 13 filings, there is not a liquidation of assets, rather a proposed payment plan.
Myth #5: You have to file for bankruptcy with your spouse.
The quick answer is no, you don't have to file for bankruptcy with your spouse--but you'll want to review what is your best option as a family before you decide to file together or separately.
One reason you and your spouse may decide to file separately instead of as a couple is if one spouse has filed for bankruptcy in the past eight years. However, if a couple decides to file separately and the court cannot find a good-faith reason as to why the bankruptcy file may not be approved.
Don't leave it up to chance. Call a trusted Ohio bankruptcy law firm today. Have additional concerns? Check out our
FAQ
and then call us.
Give Yourself a Second Chance For a Prosperous Financial Future: Don't Fall for These Bankruptcy Myths
If you are experiencing financial distress or the burden of debts you cannot pay, we encourage you to
contact The Jones Law Firm
for a free consultation about how we can help and whether Chapter 7 or Chapter 13 bankruptcy is right for you. With offices in Reynoldsburg, Ohio, The Jones Law Firm works with clients in and around Columbus and throughout central Ohio. Don't delay. Your financial future begins now.